Experience the difference for your next group tour, all at no extra cost

.

Our customized tours for student and adult groups stand out in quality and attention to detail! When you travel with us, you have the power to request it all – from specific hotels, to destinations, to restaurants, or your favorite Tour Leader. 

You pick your theme and focus of the tour and we make exactly what you want and more. Throughout the process we will give suggestions to make your tour exceptional.

With Lingo Tours, our travelers enjoy high quality tours at the most competitive rates. We believe it is important to put the traveler in the center. Our tours must have a natural flow; be comfortable and enriching. That is why we work with 4-5 star hotels with central locations for our groups. Student dinners, as well as meals for adult groups, are always of high quality. We keep a personal communication with Group Leaders and travelers and we listen carefully to what you have to tell us.
1. Customization
When the tour is created we will offer suggestions to make it unique and to ensure the best tour flow by adding in solutions you may not have thought of. Many of our groups return again and again, year after year. Because we have gotten to know them so well, we know what they appreciate and like to throw in some fun surprises, like travelling by tuk tuk to your dinner or zooming down Lake Garda on speed boats with a stop for a swim. When we design a tour, we make sure it stands out.
Here are some examples of special moments on tour.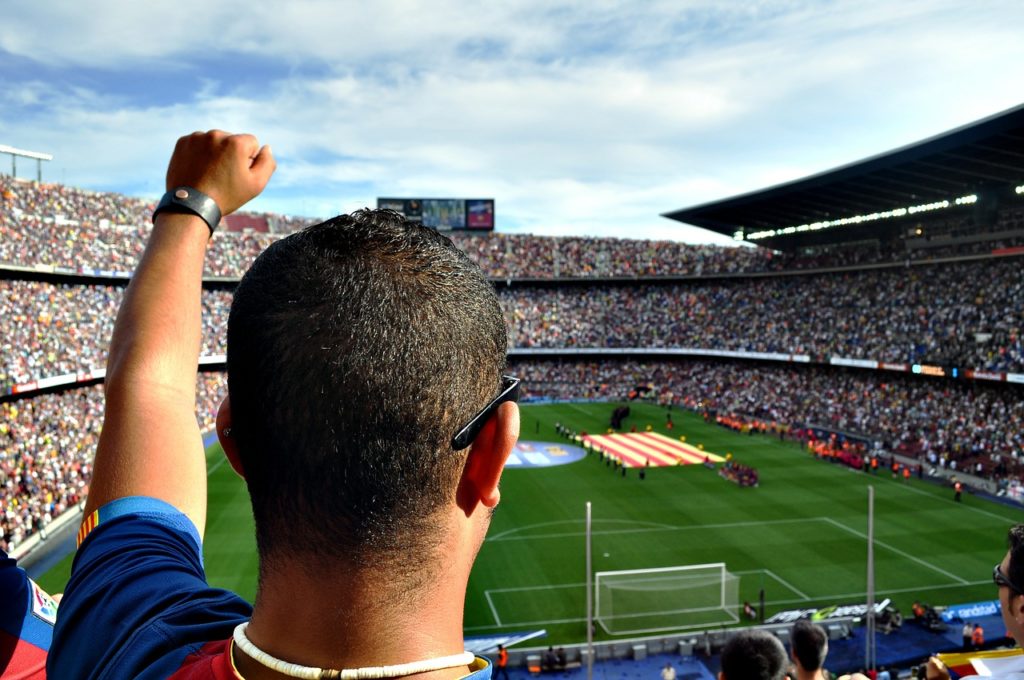 Included Football Games
We have had several groups watching high level games in Madrid, Barcelona, Milan, and Rome. Let us know what you are after and we will arrange it.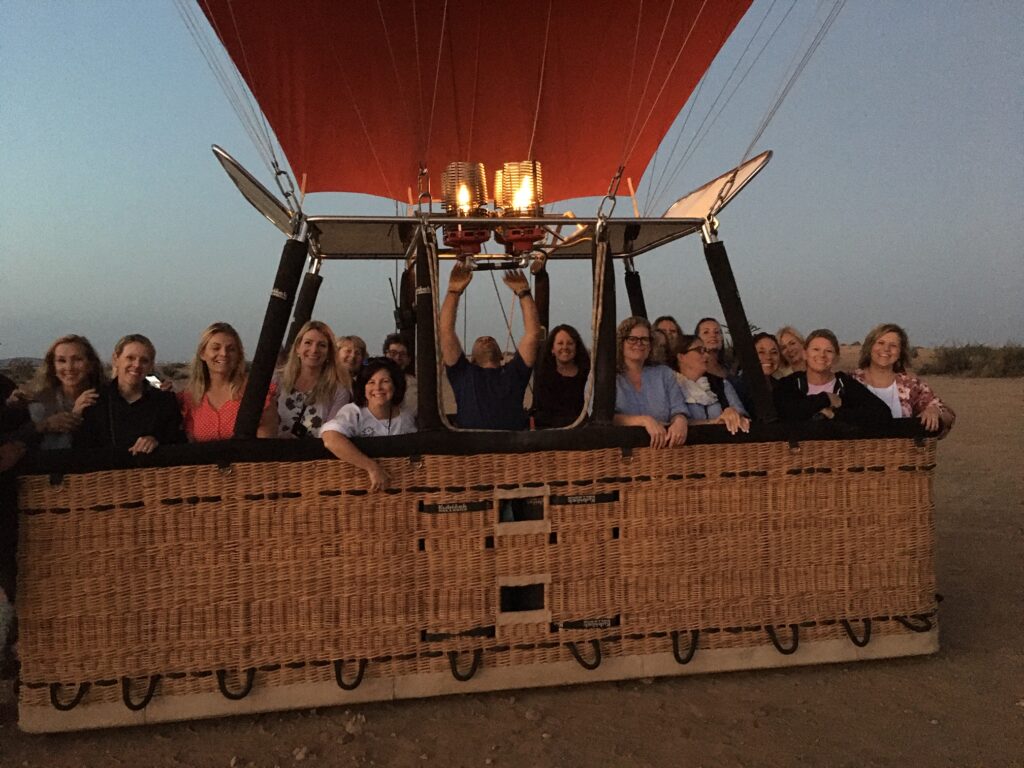 Balloon over Atlas Mountains
A high flying excursion for this happy group enjoying the sunrise over Africa flying along the Atlas Mountains.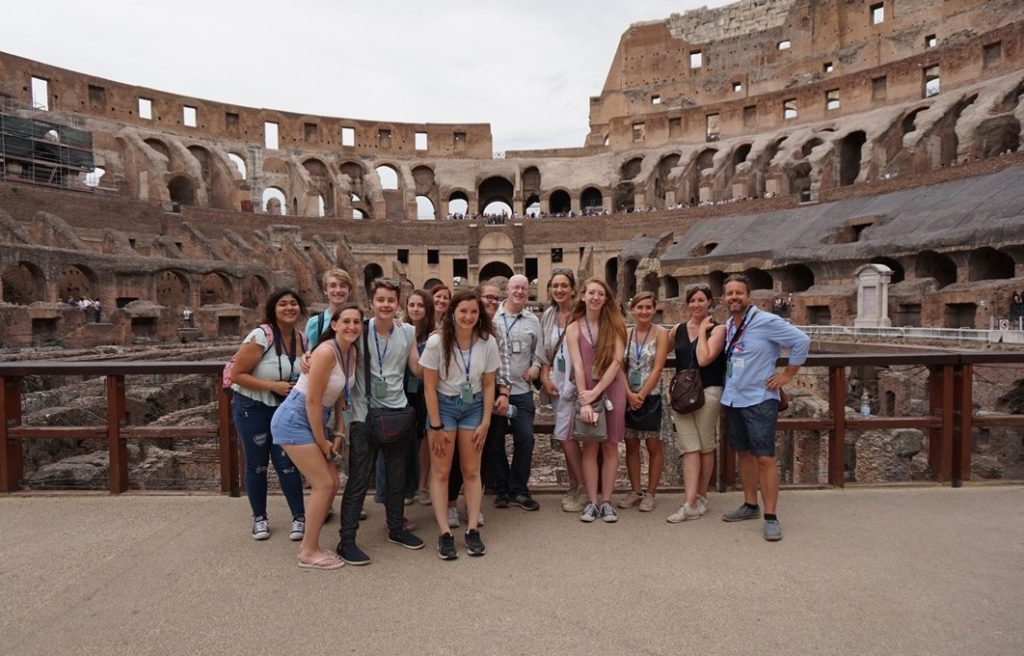 Private Arena Floor
Always when available we include the guided tour to enter the arena floor in the Colosseum. No line, no waiting, we have our own entrance!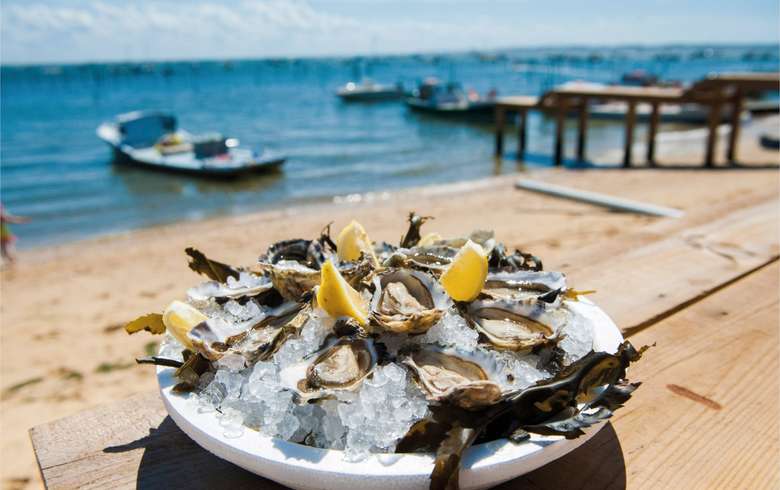 Oyster Tasting
When in Arcachon with an adult group you have to have some oysters fresh from the ocean. To be enjoyed overlooking the harbor of Arcachon!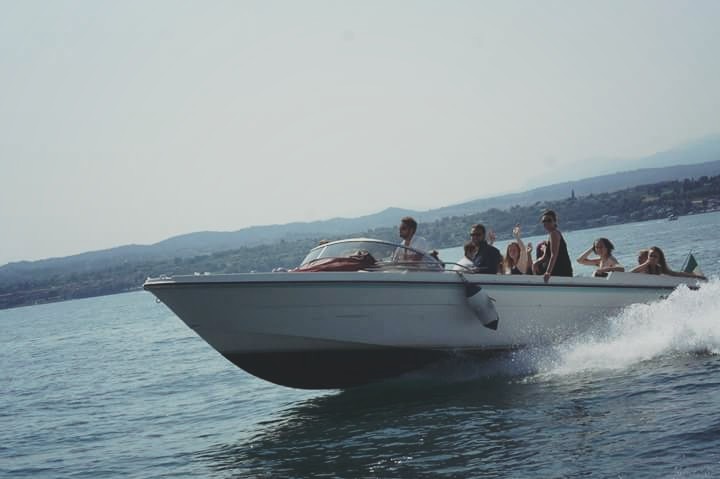 Garda Dinner Transfer
This group traveled from north to south by speed boat to get to their dinner that evening.
Yes, of course we made time for a swim in the lake.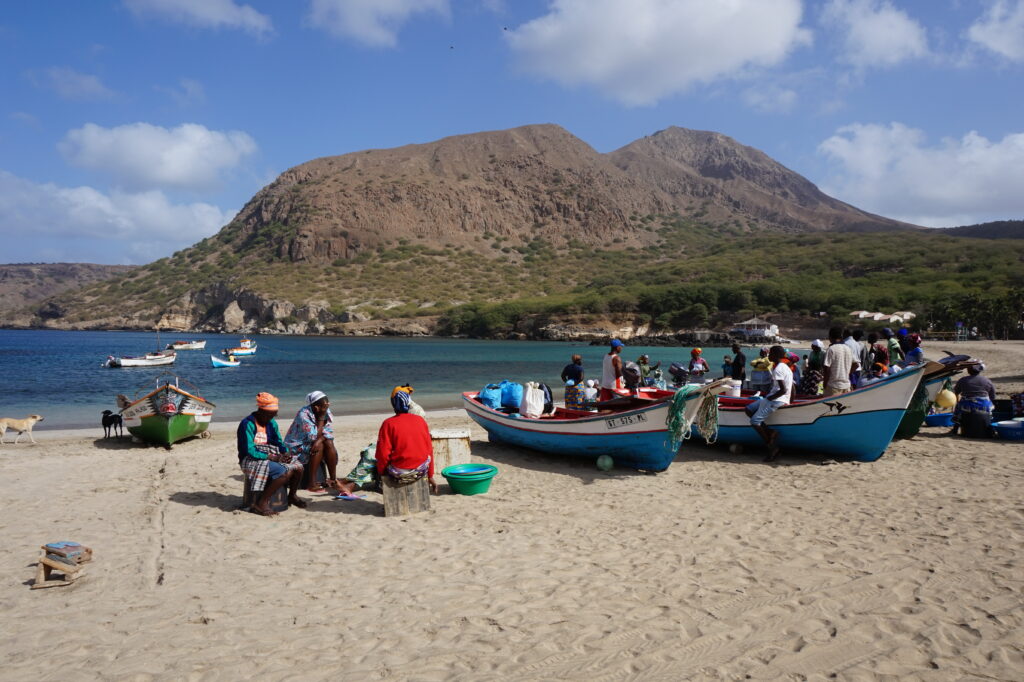 Fisherman Boat Excursion
Our group had a customized destination to Cape Verde where they visited a school, explored the mountains, and joined the local fishermen out for a day on the boats.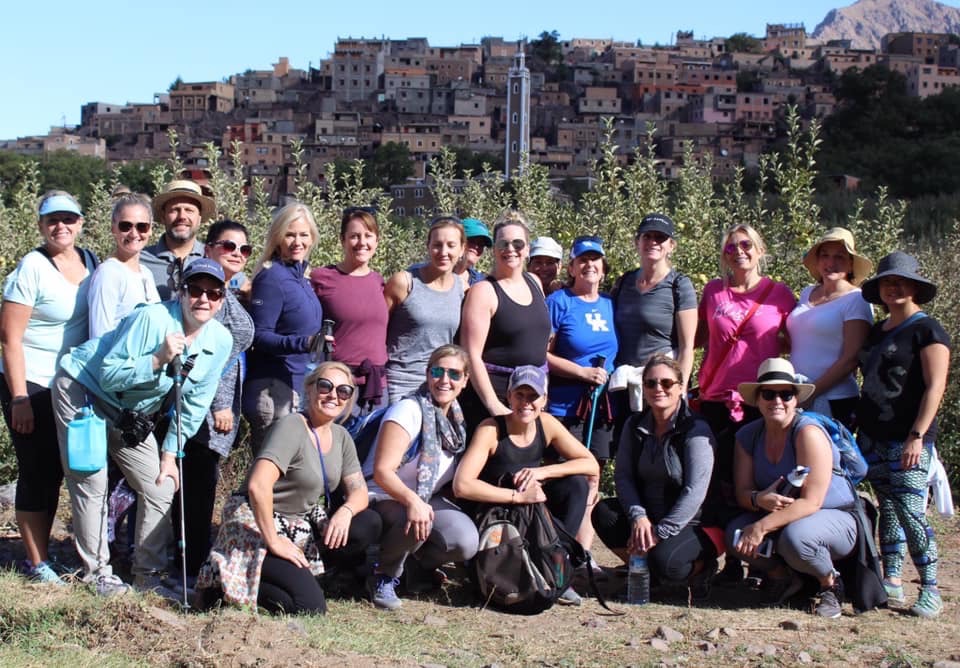 Kasbah Overnights
This women's group enjoyed a traditional Kasbah, with mountain hiking, Berber family visit with tea, and traditional dancing and music at night.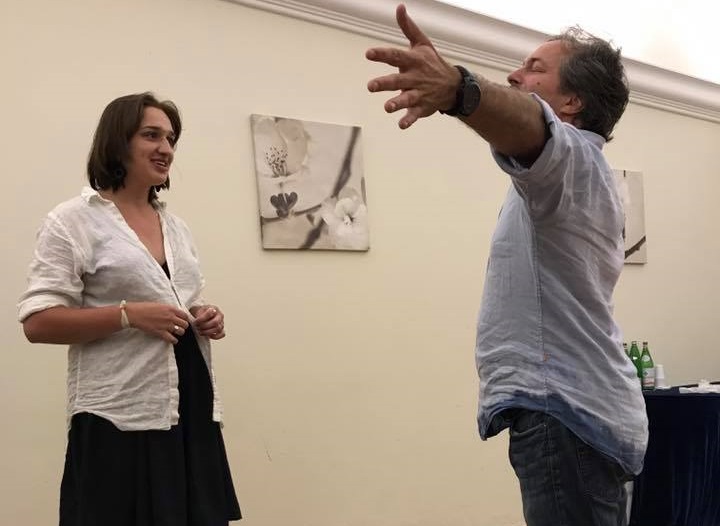 Private Acting Coach
This theatrical group had a private session at the hotel in Rome with international Meisner technique acting coach Steven Ditmyer from New York.
These moments are beyond expectations on tour. For aspiring acting students it can be a moment of enlightenment.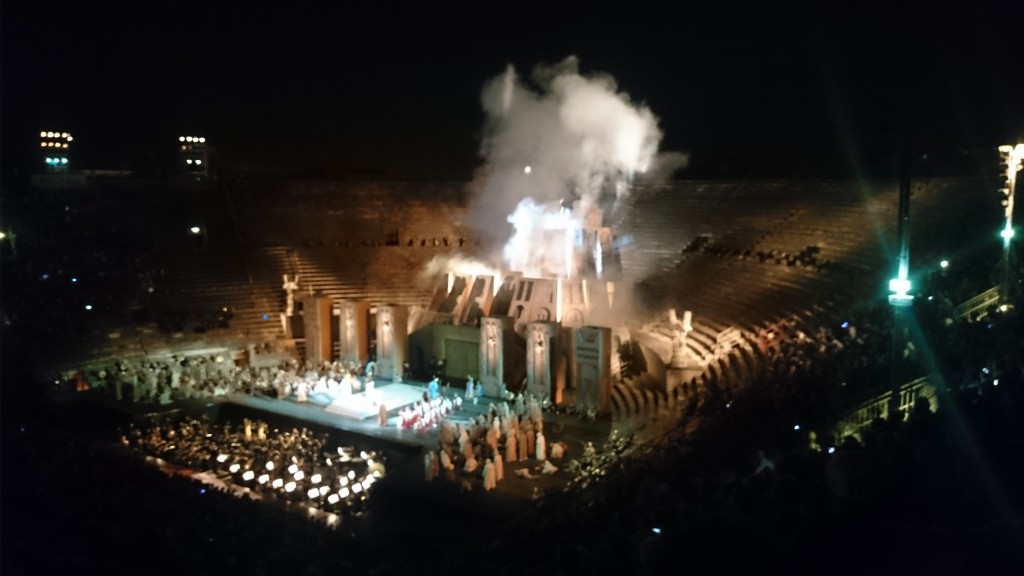 Opera Verona Amphitheatre
Is there a better way to enjoy Aida than at the ancient Roman amphitheater in Verona?
This group surely enjoyed it!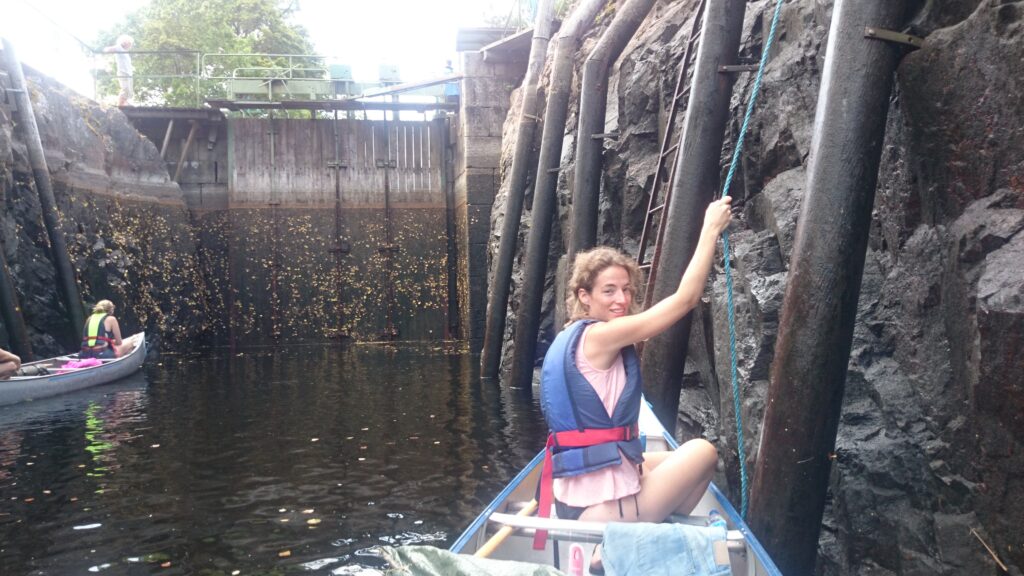 Swedish Lake Canoeing
Relax with a Scandinavian nature-themed tour with canoeing, hiking, and island visits along the Swedish west coast to discover the traditional island life.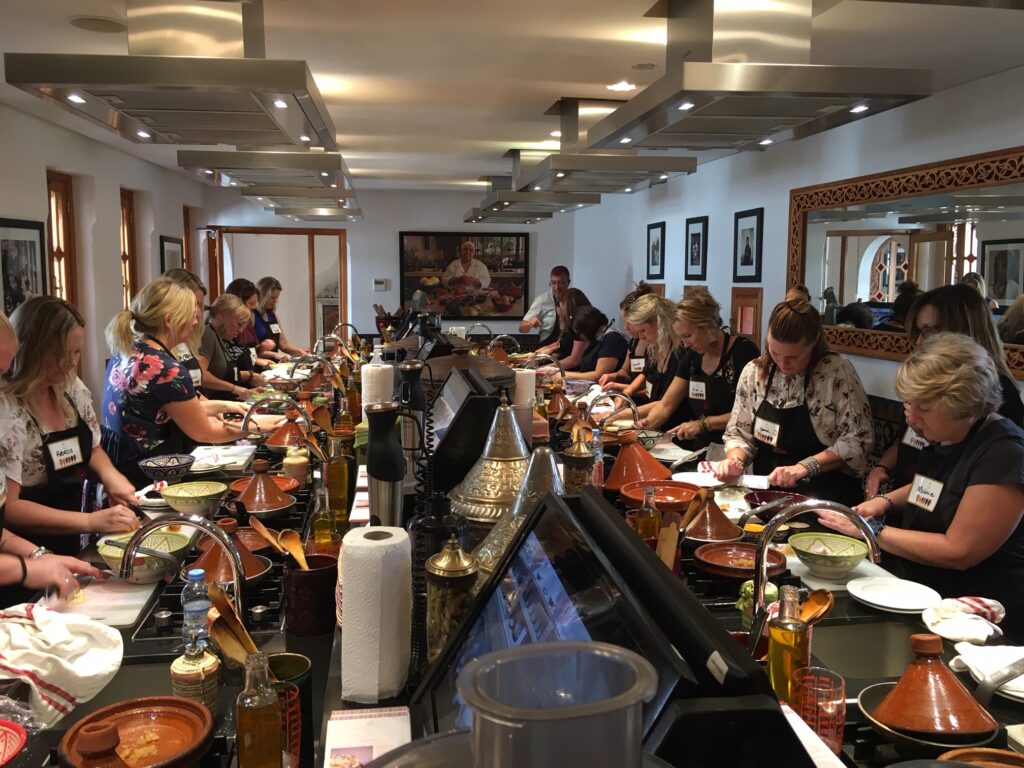 Tagine Cooking Class
Indulge in a lively and yummy activity with tea making and hands on cooking class at Maison Arabe. Merci!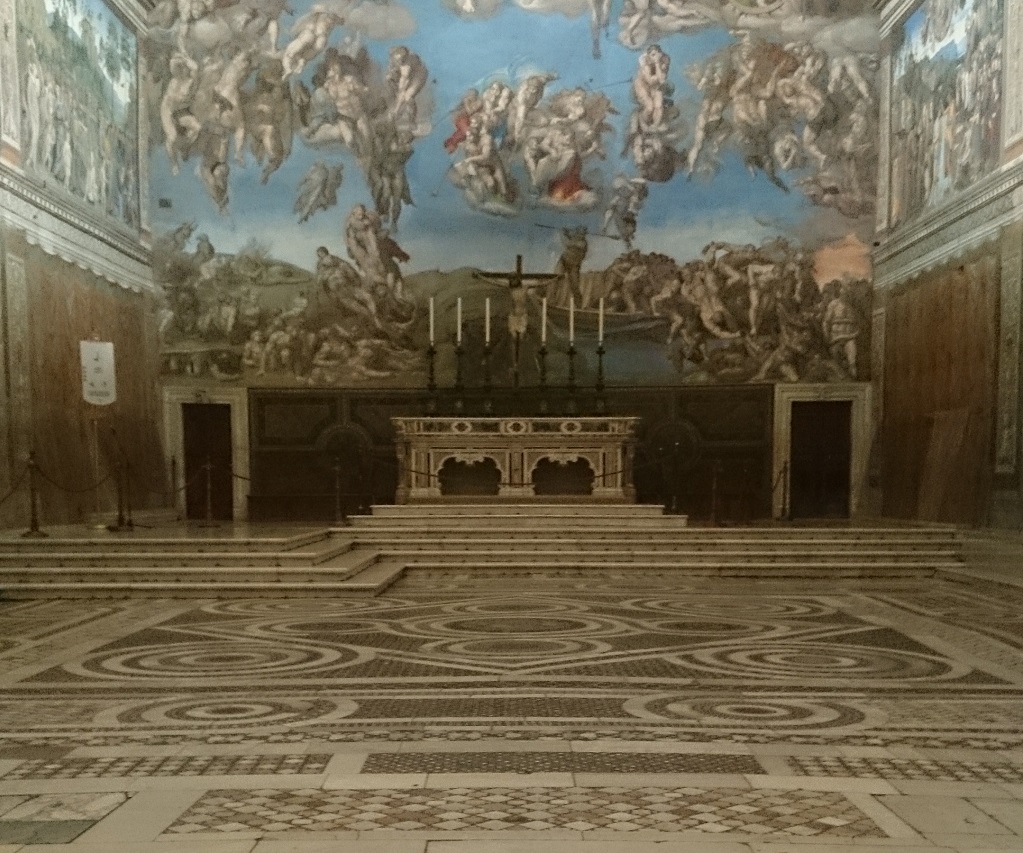 Vatican Alone Time
Privatizing the Vatican Museum is possible. This lucky group had the Sistine Chapel all alone with a private guide showing them everything in private.
For photographic effect the group is behind the camera.
This photo was taken without flash, but with permission from our private security guard.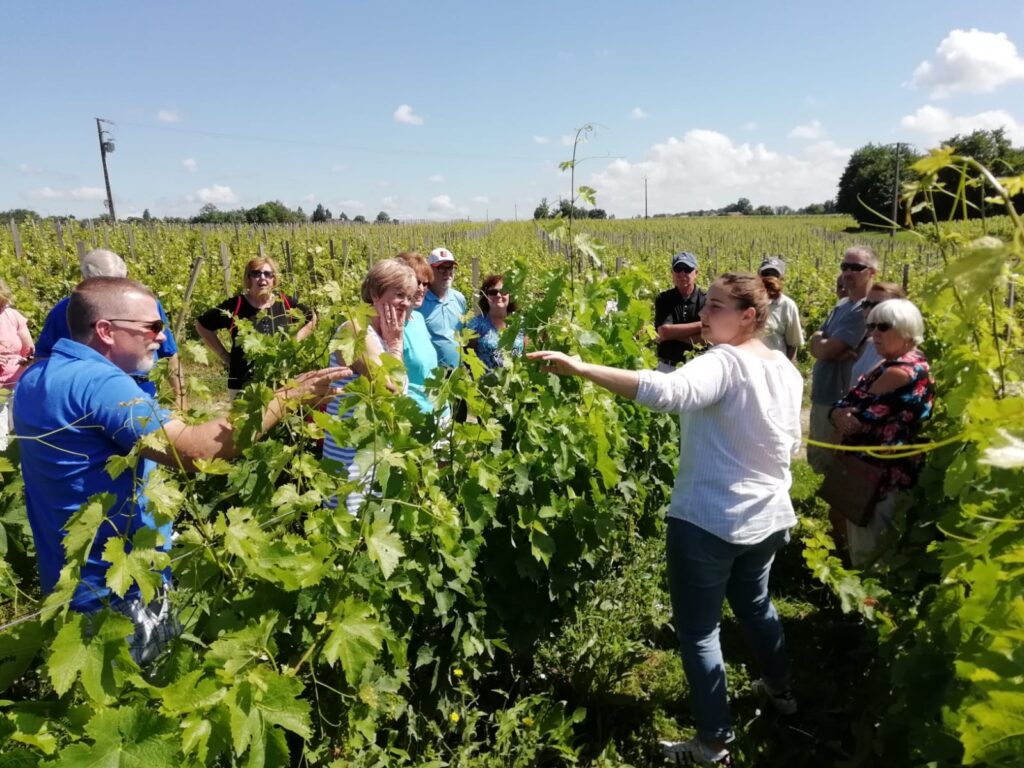 Wine Making Explained
This group touring southern France enjoyed a day in the sun with a private vineyard workshop, picking grapes, and tasting wine.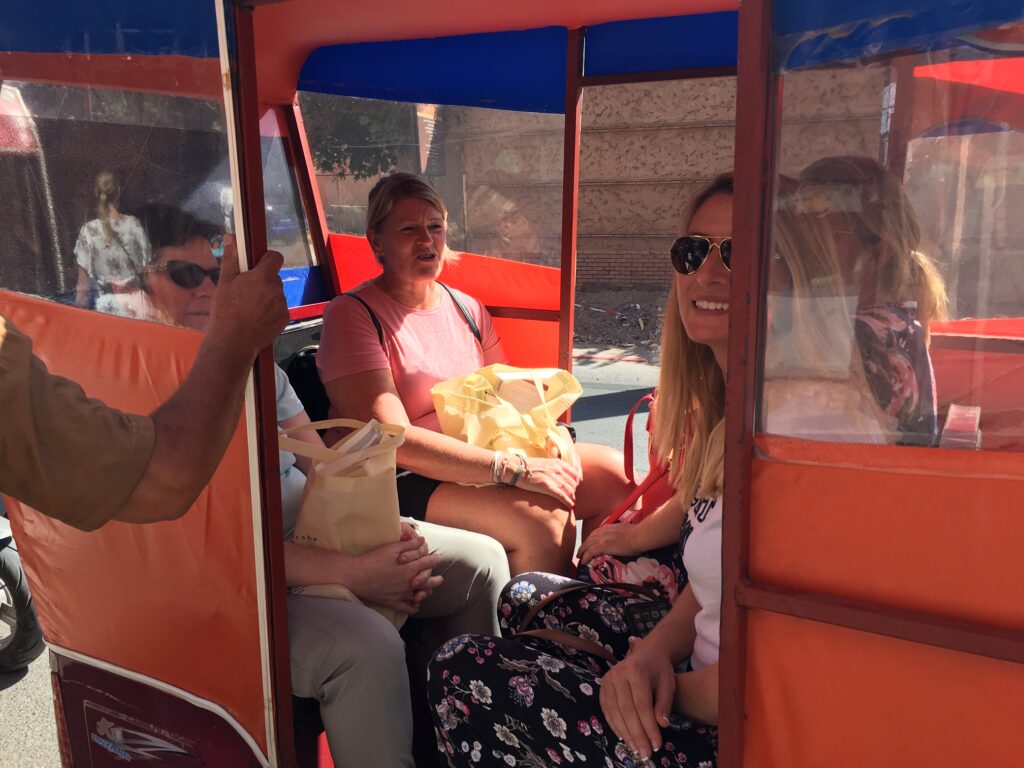 Tuk Tuk Marrakech
This was the means of transport for this group in Morocco. Going from the included Hammam to the Palace and to the Souk. Tuut Tuut!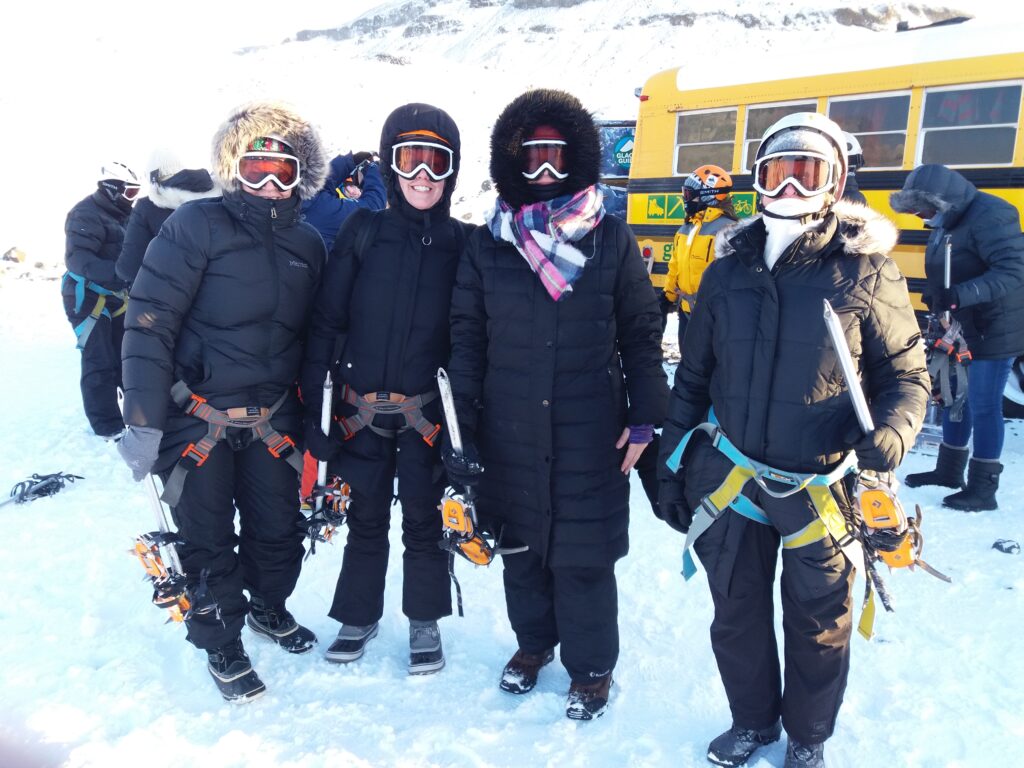 Glacier Hike
Before this group had a well-deserved plunge into the Blue Lagoon they took a long glacier hike with their instructor to learn how to climb ice walls.
2. Central Hotels of Quality
Central hotels of high standard is key for us. We work with both known brands such as Meridien, Marriott, Hilton, and Mercure, but also with smaller private owned high quality options where we have done rigorous safety audits. The lesser know, albeit surprisingly good, are hotels like Carnival Palace (Venice), Amano (Berlin), Kimpton De Witt (Amsterdam) and Hotel Duquesa de Cardona (Barcelona). The list of great accommodations is long, but to provide some examples of both student and adult hotels, please see the list below of the most common hotels that we work with in some of the capitals.
Paris Hotels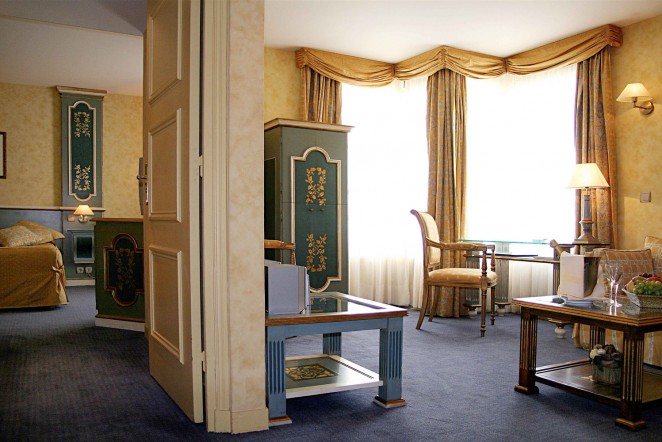 Villa Beaumarchais
****
4-star central hotel in Le Marais, Paris, walking distance from Bastille and the many restaurants in Marais. We use this hotel for both adult and student groups.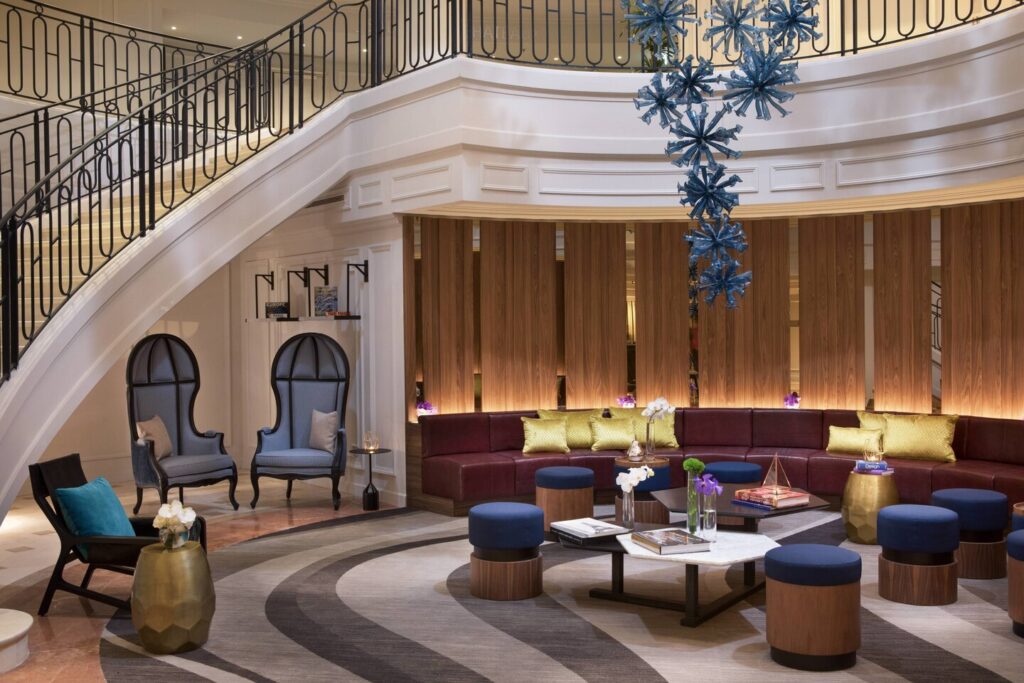 Marriott Renaissance La Defense
****
4-star hotel in La Defense, minutes from Metro line 1. Great standard hotel for both student and adult groups with short metro ride to the heart of Paris.
London Hotels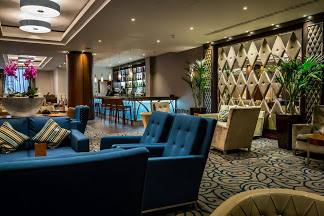 Holiday Inn Kensington High Street
****
4-star central hotel in Kensington, a minute from High Street Kensington with immediate access to the tube station. We use this mainly for student groups, but also for budget adult groups.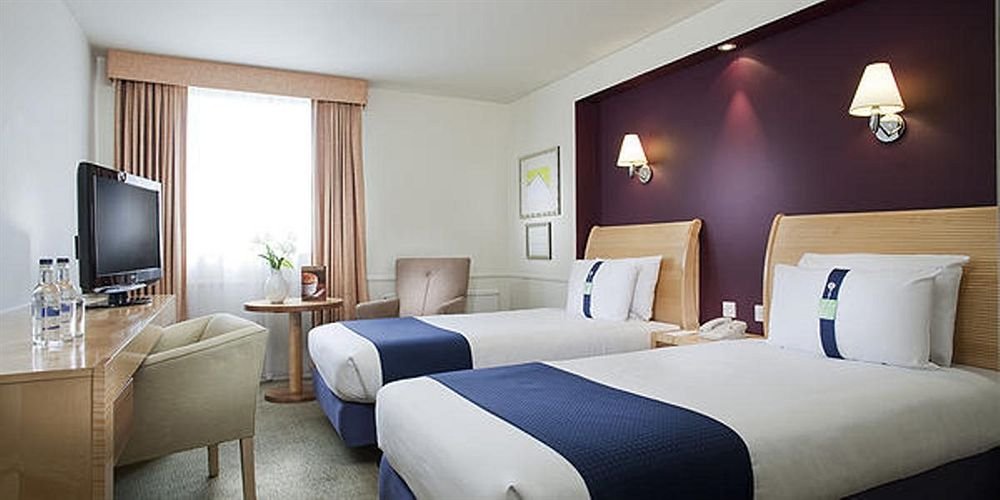 Holiday Inn Bloomsbury
****
4-star central hotel in Bloomsbury, a minute walk from the British Museum and central highlights. This is a student groups only hotel.
Rome Hotels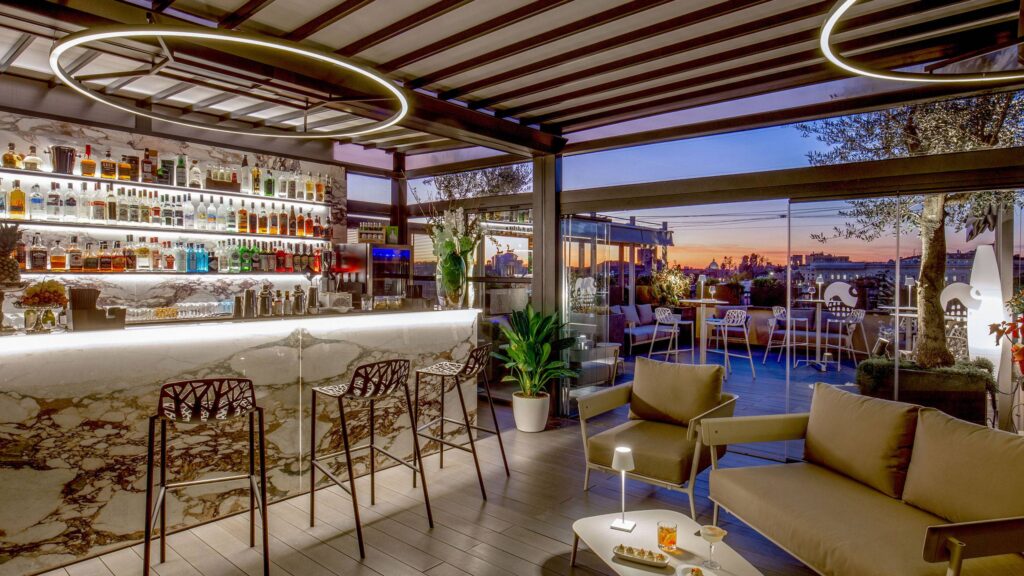 Monti Palace
****
4-star central hotel in the Monti district, walking distance to the Colosseum and Fontana di Trevi. Here, both student and adult groups enjoy breakfast from the rooftop.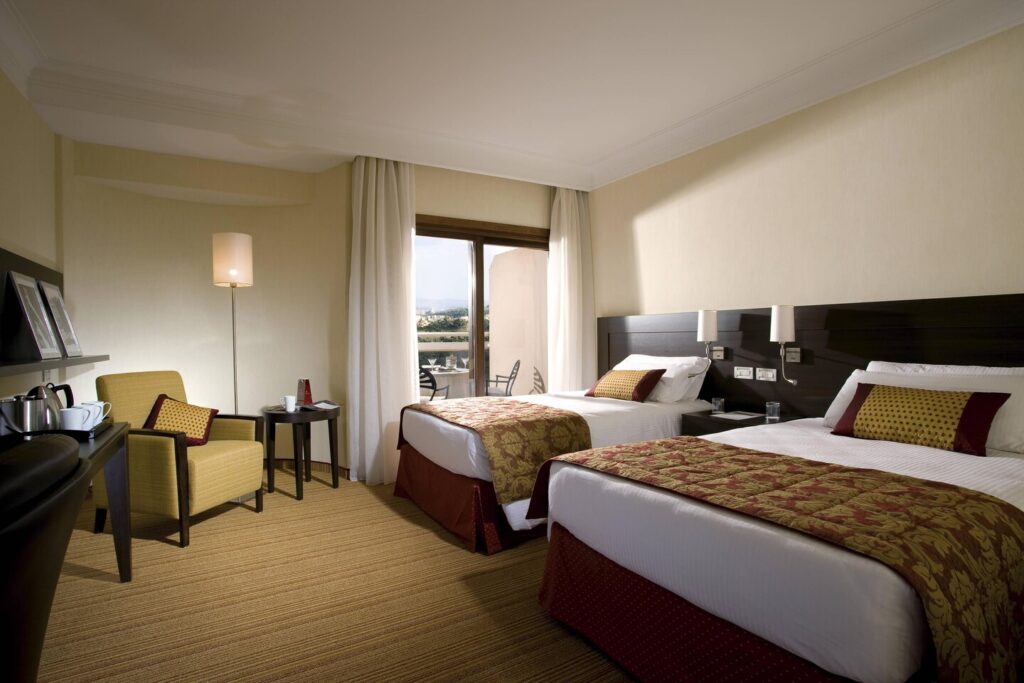 Courtyard by Marriott Central Park
****
4-star hotel overlooking the dome of St Peter's Basilica. We use this hotel for adults and student groups.
Athens Hotels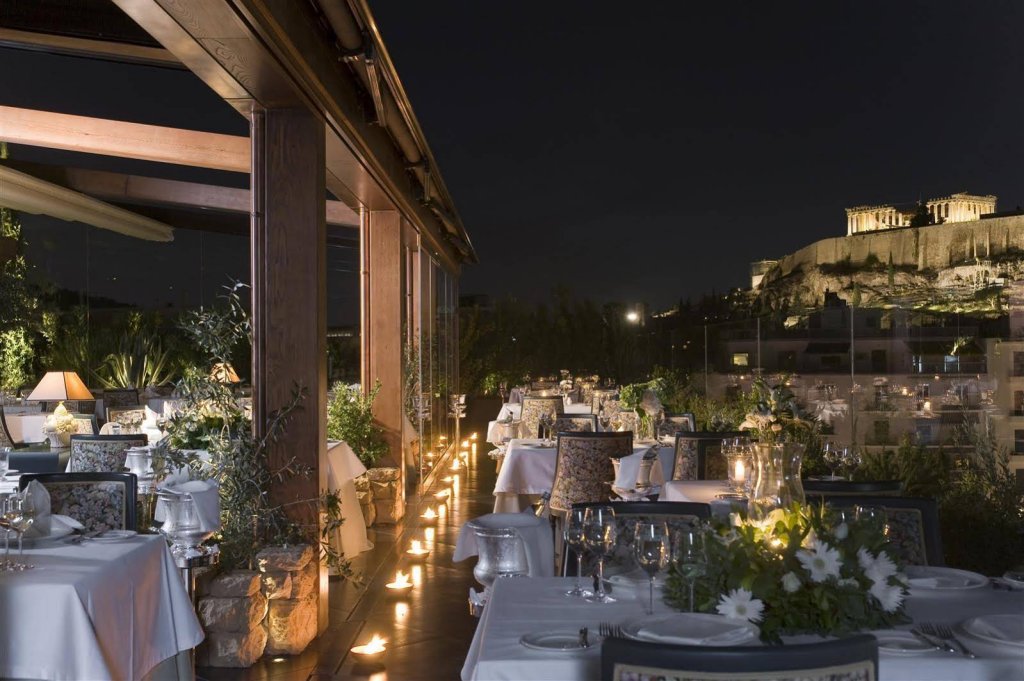 Royal Olympic
*****
5-star central hotel in the heart of Athens, walking distance from Plaka and with breakfast rooftop terrace overlooking the Acropolis and Zeus Temple for both adult and student groups to enjoy.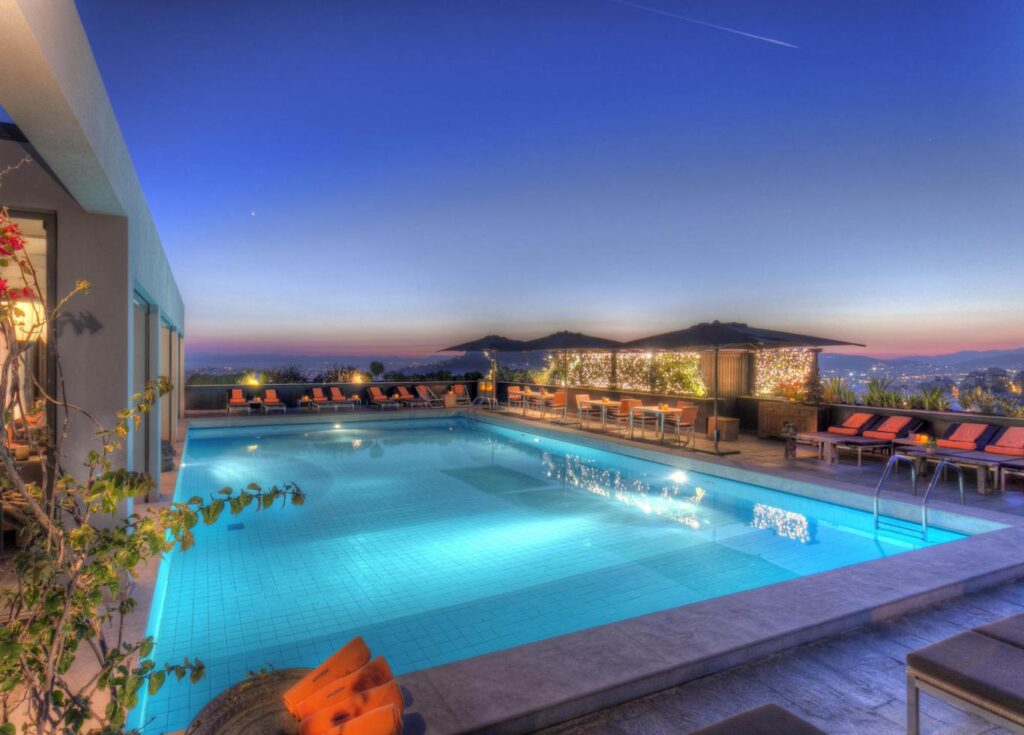 President Hotel
****
4-star central hotel in Athens, short metro ride to Plaka and Syntagma Square. Also with a great rooftop terrace with swimming pool overlooking Acropolis. Student group hotel, at times for adult groups as well.
3. Quality Meals
All our meals on tour are of high quality. You start your day with a full warm breakfast buffet, no exceptions. The dinners that we provide are booked at genuine restaurants with high level quality. We believe in the simple rule that one needs to eat and sleep well to enjoy the adventures of travel. For adult groups we include a free drink of choice and for student groups we provide healthy options or bottled water. Every dinner includes a starter, main course, and dessert. When possible, we give the traveler a menu choice that the Tour Manager collects prior to the dinner.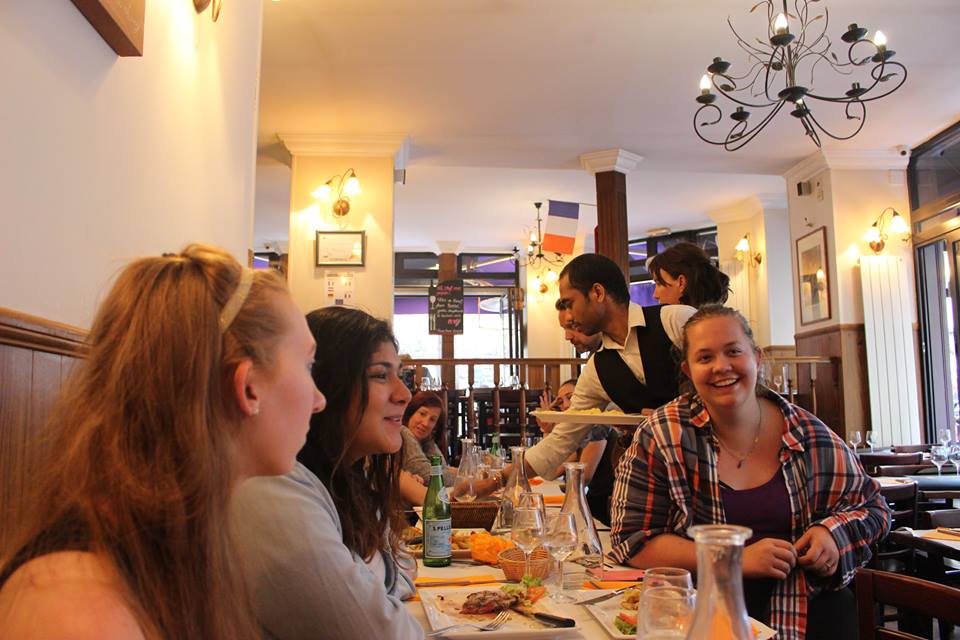 Dinner in Montmartre
French dinner in Montmartre, Paris before spending the evening at the artist square and cabaret night.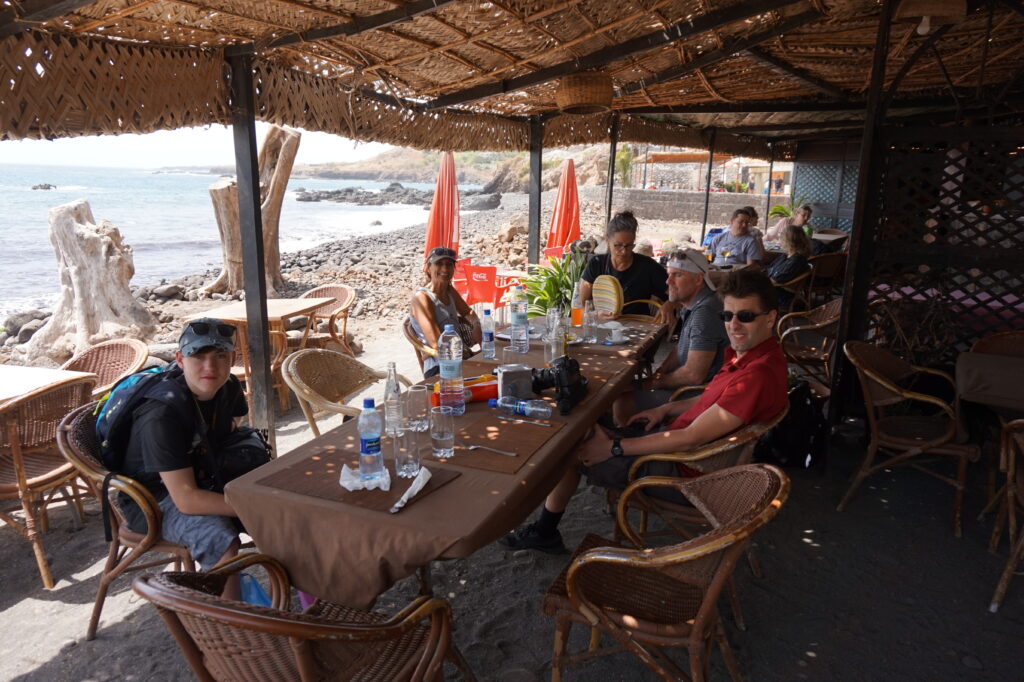 Overlooking the Tarrafal Bay
Group dinner with sunset over the bay of Tarrafal beach.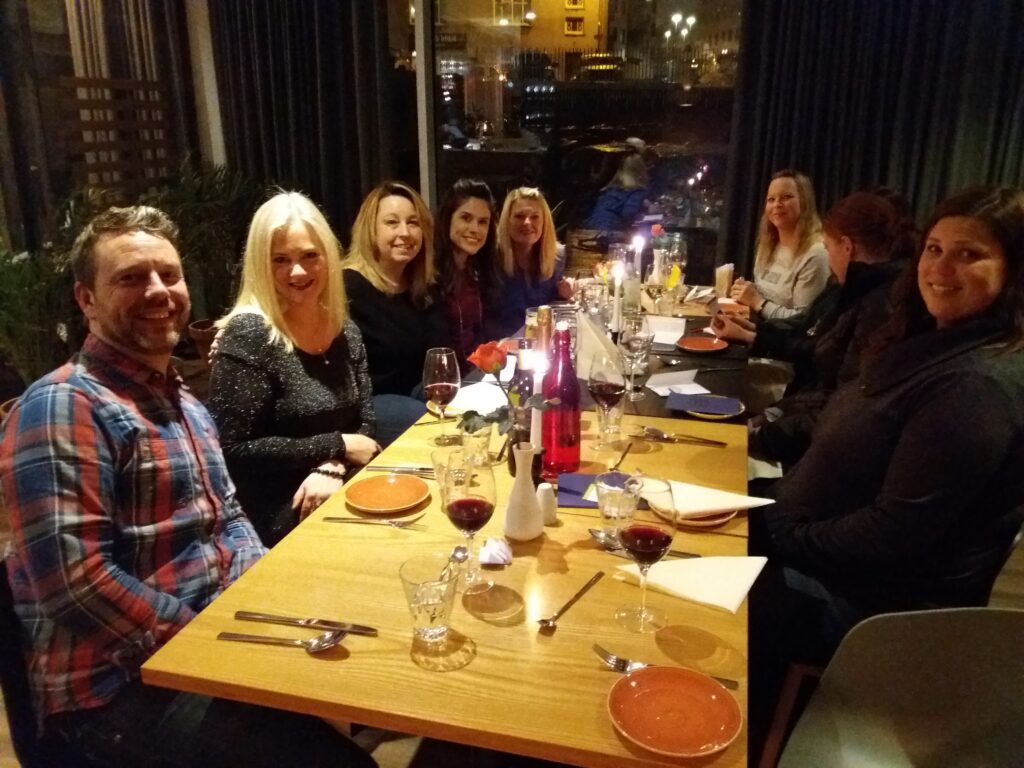 Icelandic Winter Dinner
Adult group dinner after a long day in the snowy waterfalls and rugged coastline. This fortunate group got to see the northern lights after dinner at our Northern Light lodge.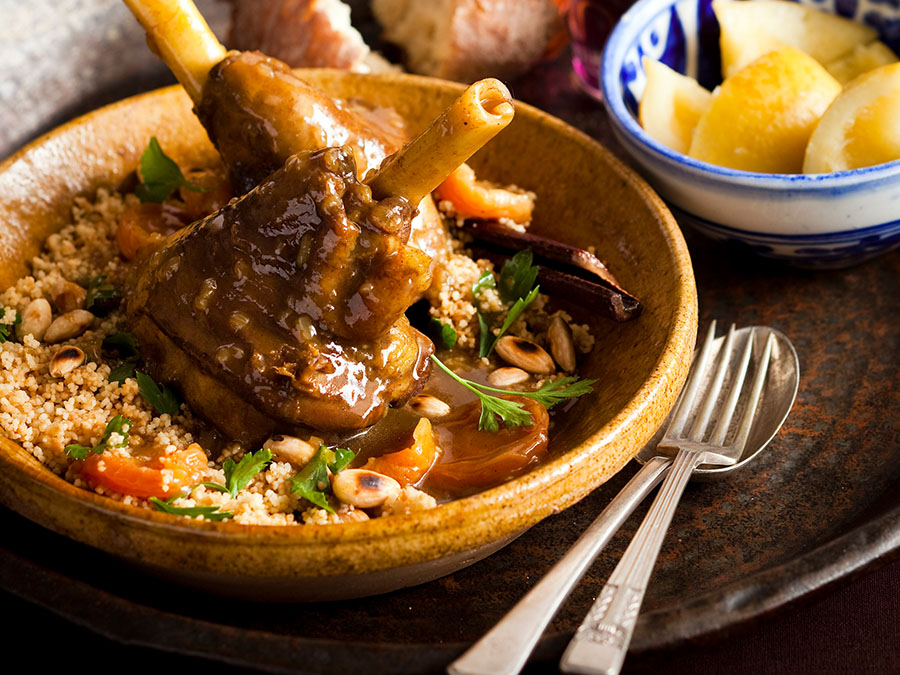 Couscous Tagine Dinner
Lemon cooked tagine with couscous when in Magreb.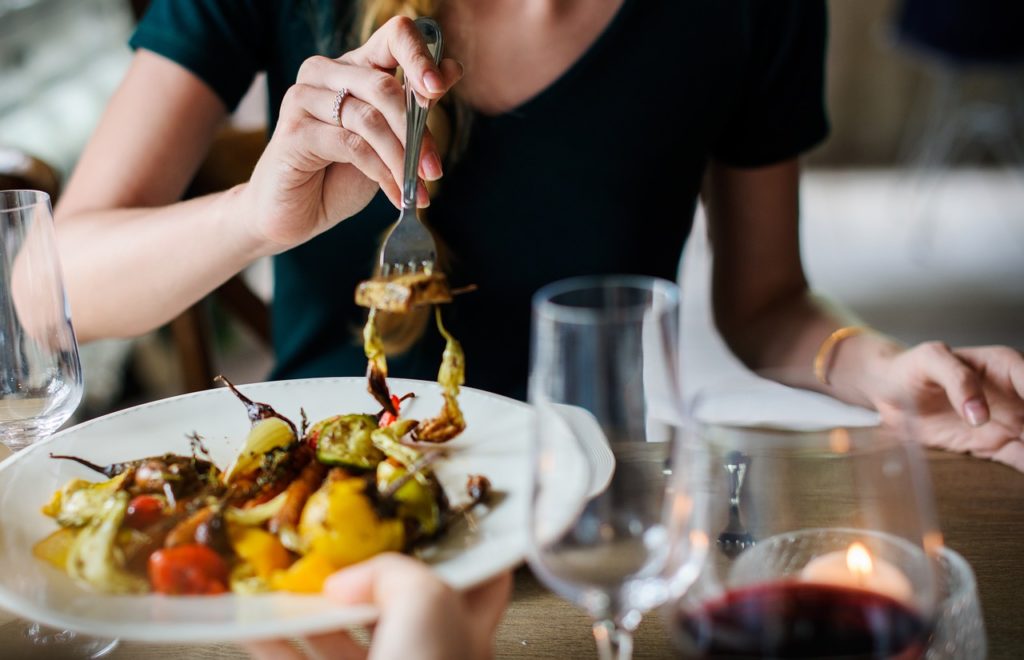 Southern French Dinner
Adult group dinner in the south of France. This group had their food with wine pairing.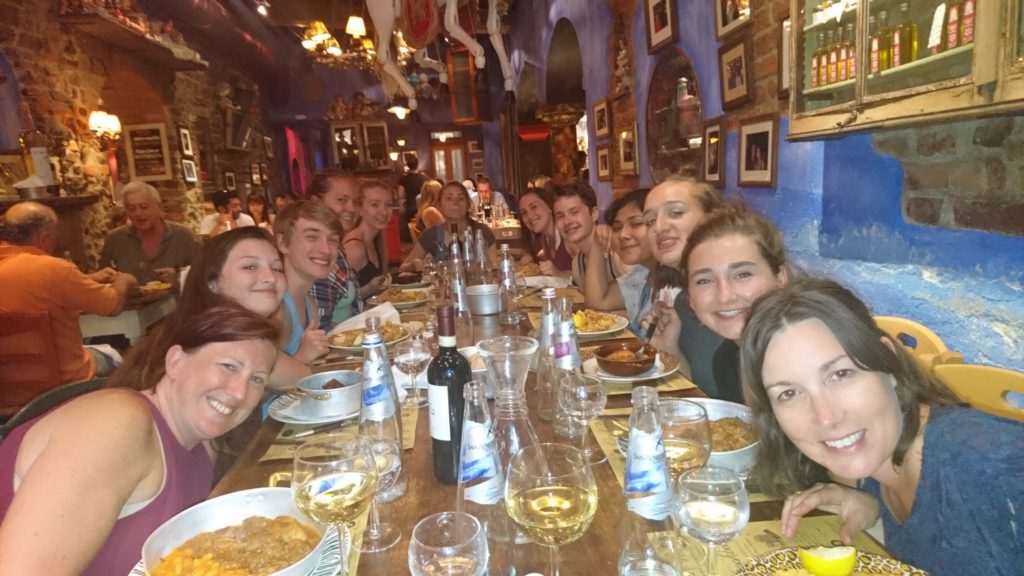 Student Dinner in Florence
Just around the corner from Mercato Centrale, San Lorenzo, you'll find one of our favorite restaurants in Florence.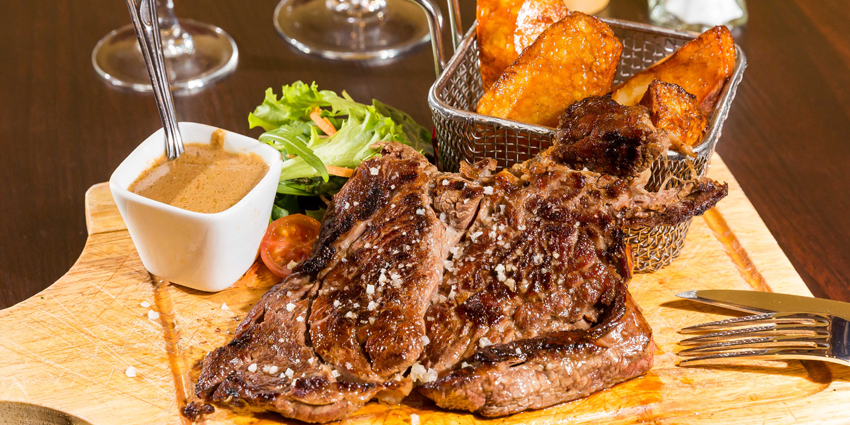 Steak Dinner London
London has a wide range of flavors to pick from, but we have a great steak dinner in mind for your group.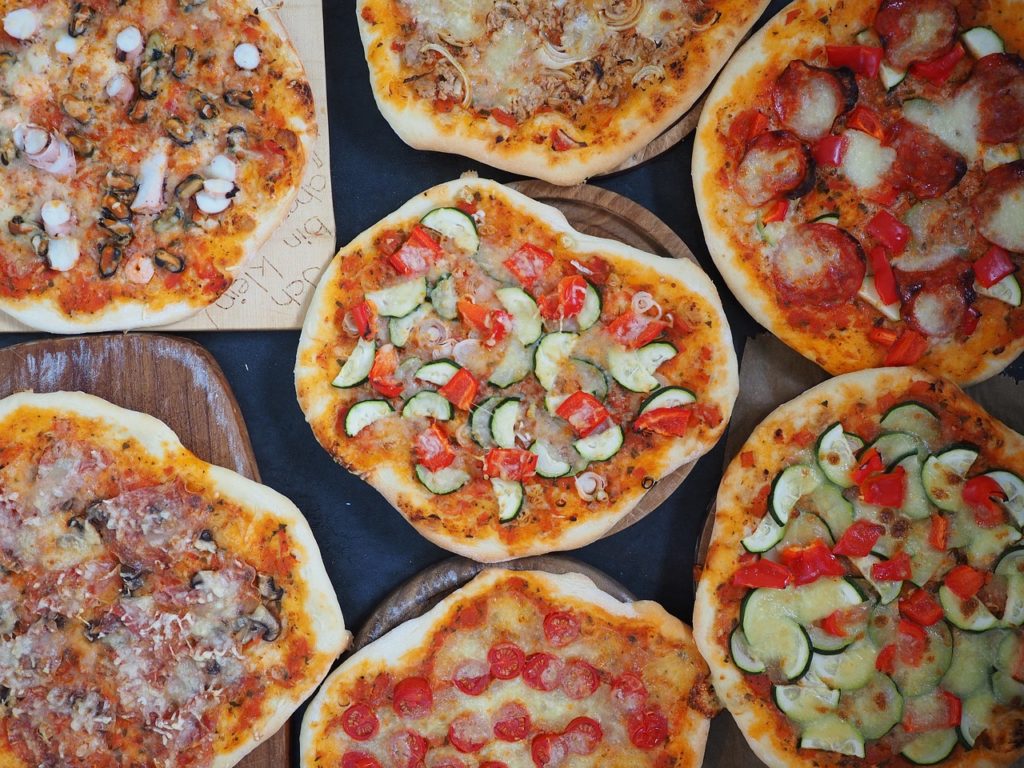 Sorrento Pizza Party
All our student groups enjoy one night of unlimited Pizza when in Sorrento.
Mangia mangia figli!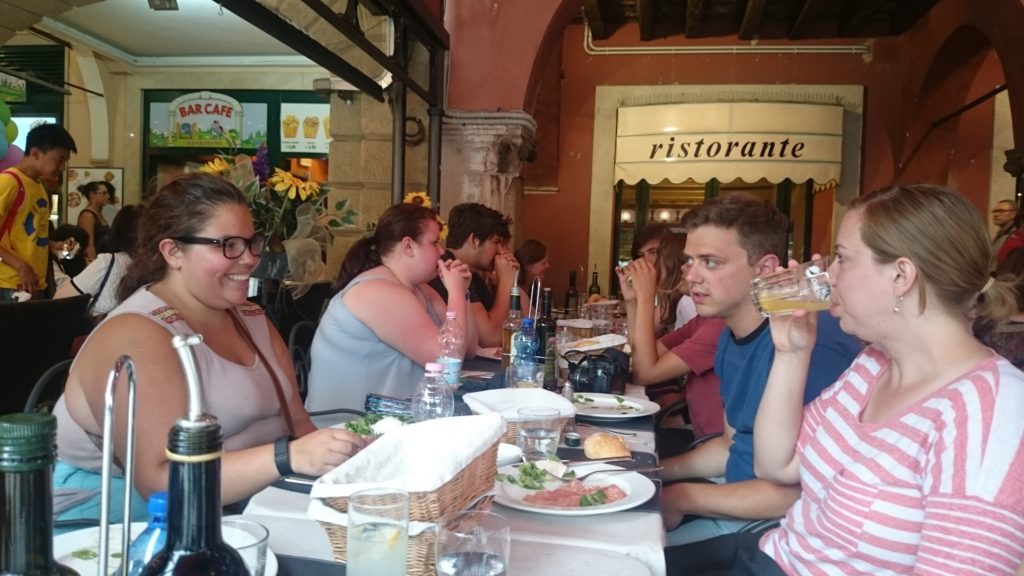 Overlooking the Piazza Brà
When in Verona, we have several wonderful restaurant options overlooking the Roman amphitheater as a dinner back drop.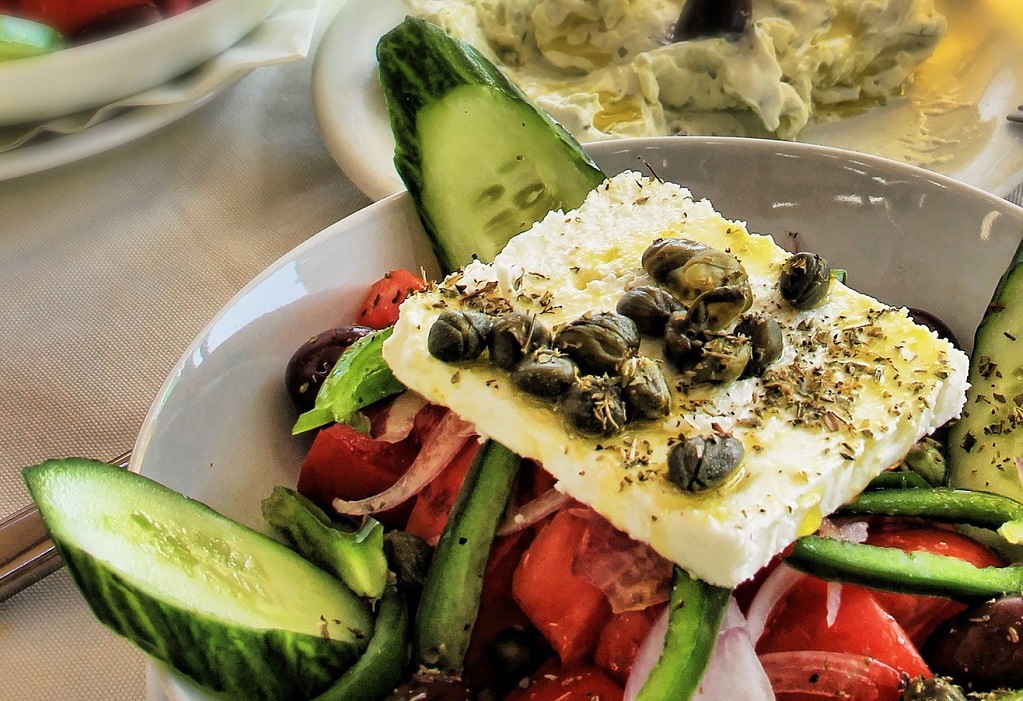 Greek Starter Galore
The many options for Greek starters with sharing plates in the middle are always a winner for all our groups when traveling in the ancient country.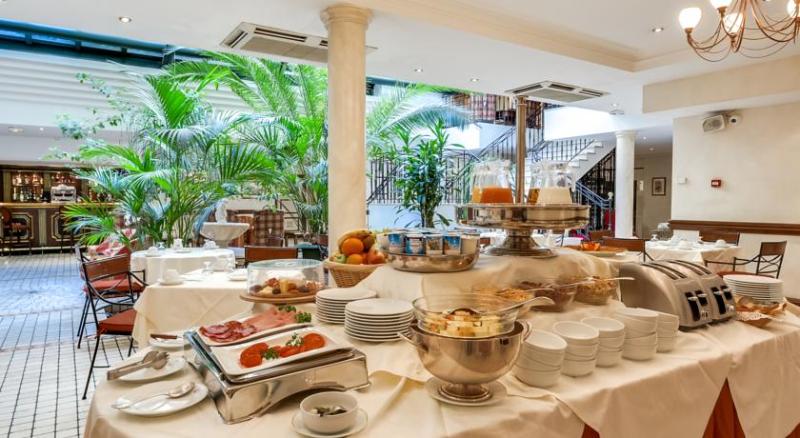 Breakfast in Paris
This is just one part of the buffet at the great breakfast atrium of Villa Beaumarchais.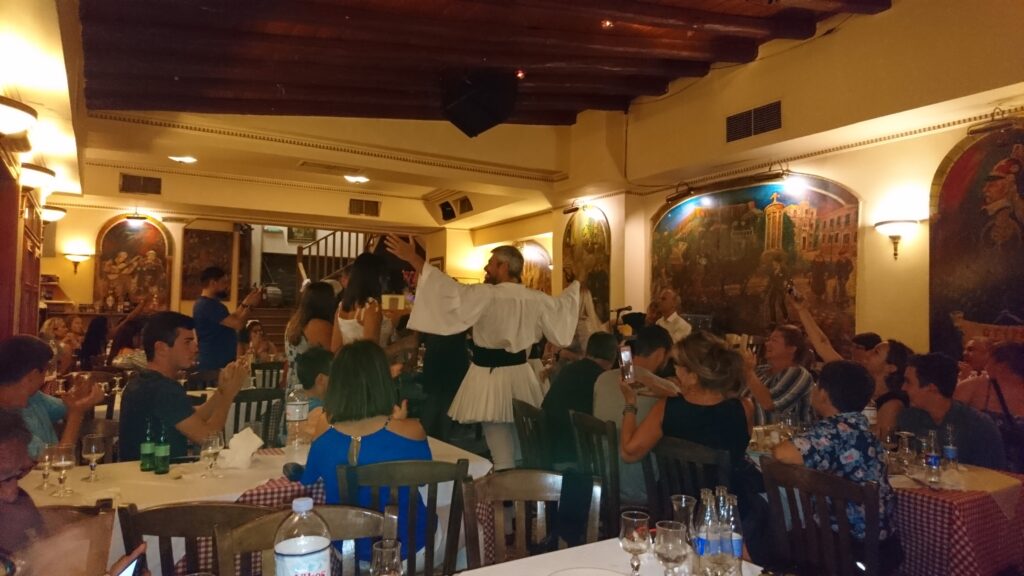 Greek Evening Dance
All of our groups have an included Greek evening with music and dance as a farewell dinner when in Greece.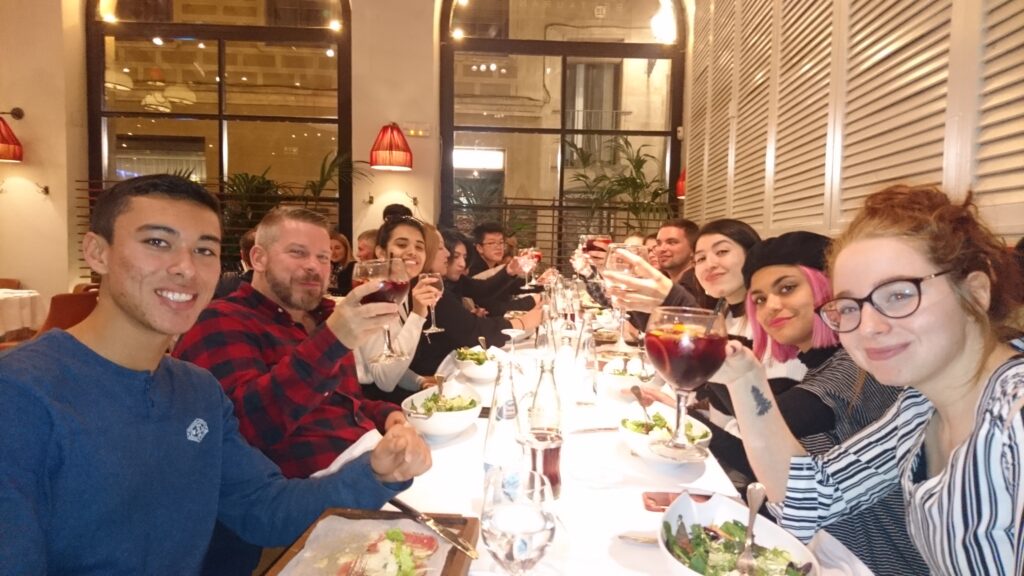 Paella Dinner Barcelona
Always a Paella dinner included when in Spain! You can't go wrong really.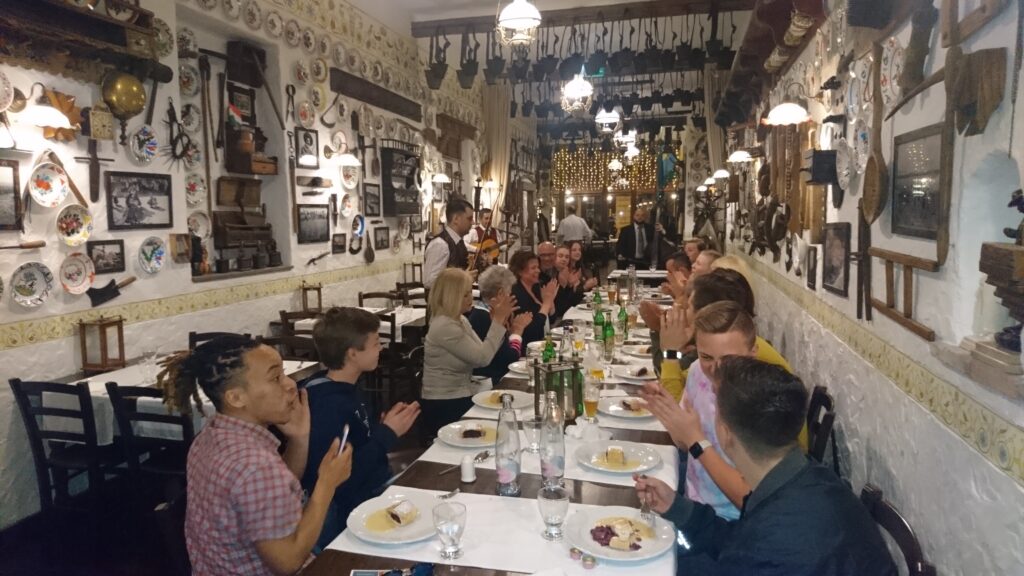 Hungarian Music Dinner
When in Budapest, we will bring you to a charming restaurant in the heart of the city. Traditional music and dance is on the menu.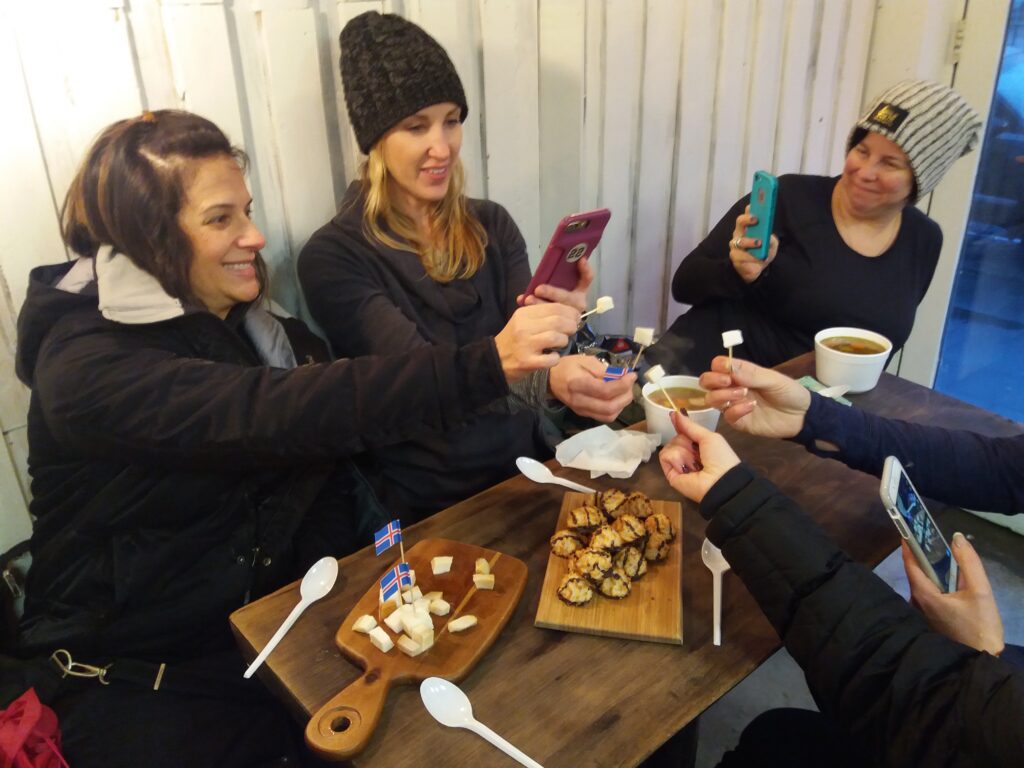 Adventurous Eater?
Ever wondered what shark, puffin, or whale tastes like? This group knows after an included lunch "snack" stop in the extreme Nordics.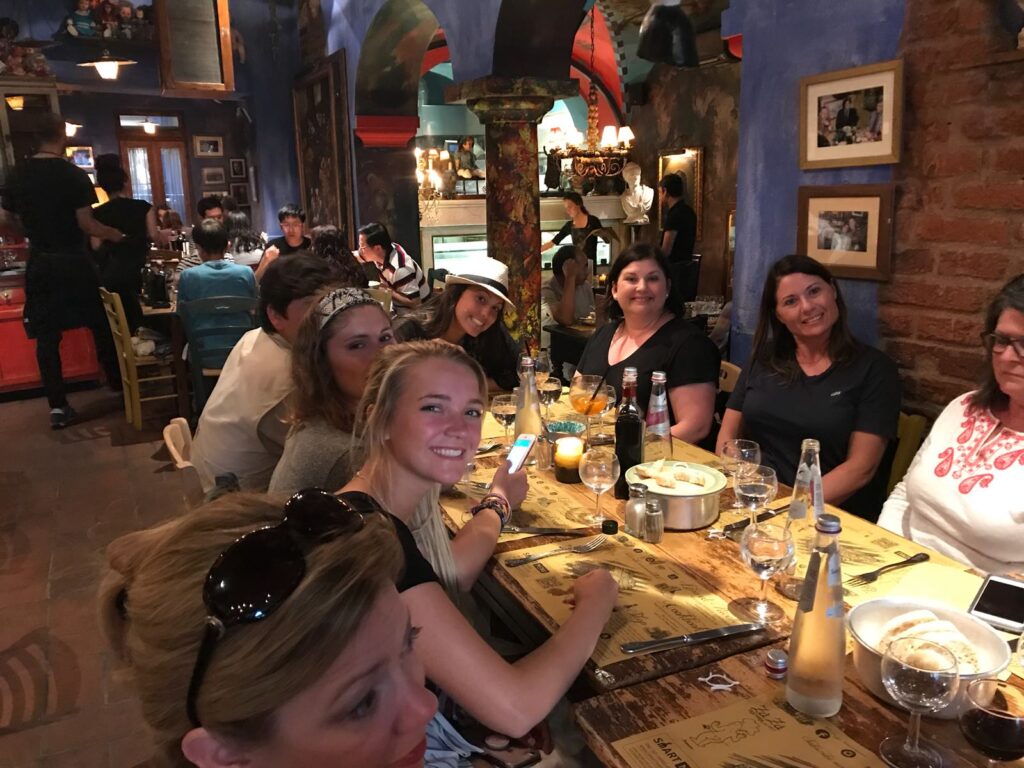 Proper Italian!
This group leader claimed that the dinner here was, "the best I have ever eaten," so we proudly send our groups to this fantastic place in Florence.
Become a Group Leader with Lingo Tours and create a new tour for your group!
"In 18 years of doing student tours, this, with Lingo Tours, was hands-down my favorite."