10 Days Tour, Departing October 10, 2024
Welcome to the Emerald Isle, where rolling green hills, ancient castles, and rugged coastlines meet in a breathtaking display of natural beauty and cultural richness.
On this tour around Ireland, we will embark on a journey that takes us clockwise around the island, beginning and ending in the vibrant city of Dublin. From there, we will explore some of the most iconic destinations in Ireland, including the enchanting Blarney Castle, where you can kiss the famous stone and receive the gift of eloquence.
Next, we will journey to the stunning Ring of Kerry, a scenic drive that takes us along the rugged coastline, through charming villages, and past stunning natural landmarks. We'll make a stop at the Cliffs of Moher, towering 700 feet above the Atlantic Ocean, offering panoramic views of the surrounding area.
Continuing on our adventure, we'll head north to the legendary Giant's Causeway, a UNESCO World Heritage Site composed of 40,000 hexagonal basalt columns that seem to defy explanation. Finally, we'll wrap up our tour in the bustling city of Belfast, where we'll visit the world-renowned Titanic Museum, honoring the tragic story of the ill-fated ship.
Join us as we explore the wonders of Ireland, immersing ourselves in its rich history, vibrant culture, and breathtaking landscapes.
Tour Route
Starting off in Dublin, absorb the culture of a past and present-day before heading south to Killarney via Blarney Castle. Continue north around the rugged coast of Western Ireland via Cliffs of Moher, Connemara National Park, Galway, Sligo, Giant's Causeway, and Belfast. Return to Dublin for a final farewell before your return flight home.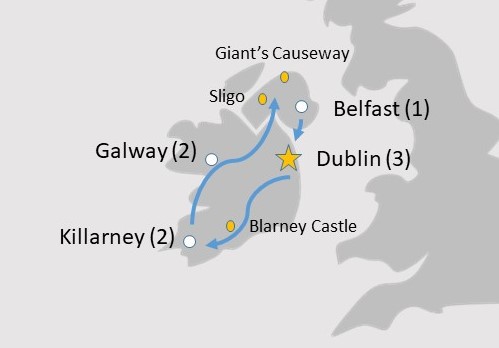 Did You Know?