6 Day Tour, Departing January 02, 2025
Welcome to the land of fire and ice – Iceland! This breathtaking country is unlike any other place on earth, with its otherworldly landscapes, rugged coastlines, and natural wonders. On this tour, you'll discover the stunning beauty of Iceland, from its impressive glaciers and towering waterfalls to its geothermal pools and dramatic volcanic landscapes. You'll also have the opportunity to witness the Northern Lights, one of the world's most captivating natural phenomena. In addition to exploring Iceland's natural wonders, you'll also immerse yourself in the country's vibrant culture, with visits to charming villages and towns and interactions with friendly locals. With free time to explore on your own, this tour promises to be an unforgettable adventure for nature lovers, photographers, and anyone seeking an escape to a world of natural beauty and wonder. So pack your bags and get ready to experience the magic of Iceland on a journey that you will never forget.
Tour Route
Starting off in Reykjavik, your exploration of Iceland will see you travel around the golden circle and along the south coast, Skaftafell Nature Reserve and onwards to Jökulsárlón Glacier Lagoon and Vik town. Once returning west you pass Hekla volcano with an overnight at our Aurora Borealis lodge. Continue via Reykjanesbaer peninsula via the lava tunnel and Blue Lagoon before returning to Reykjavik for your last night before your return flight home.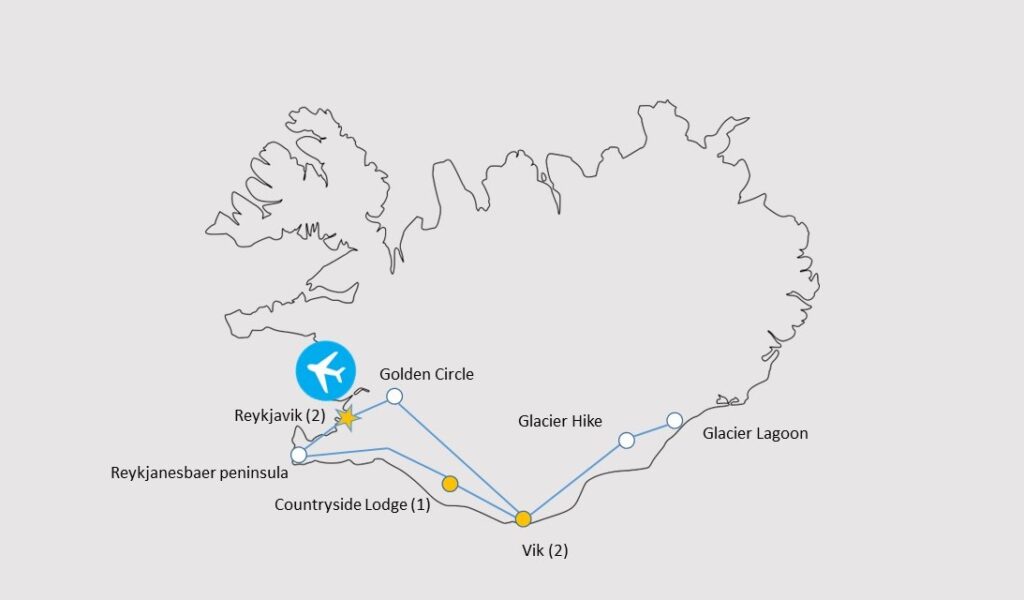 Did You Know?