10 Day Tour, Starting August 11, 2024
Embark on a journey of a lifetime as we take you through some of the most iconic and enchanting cities in Europe! Our tour to London, Paris and Amsterdam will showcase the best of these incredible destinations, each with its own unique charm and allure. In London we will see all the main highlights and famous sites this big buzzling city has to offer. In Paris, you'll be swept away by the romantic ambiance and the stunning landmarks that make this city the epitome of elegance and sophistication. And Amsterdam, you'll discover the city's famous canals and explore its vibrant art scene and nightlife. We'll be experiencing the stunning architecture, mouth-watering cuisine, and world-renowned art that these cities have to offer. With ample free time to explore on your own, this tour promises to be a perfect blend of adventure, culture, and relaxation. So, join us for a journey that will leave you with memories to cherish for a lifetime!
Tour Route
Starting with three nights in London, you'll travel south via speed train to Paris. Spend 3 nights here and then it's off to Amsterdam and the Netherlands! Stay in an additional 3 nights in the Dutch capital before it is time to say goodbye and wrap this tour up.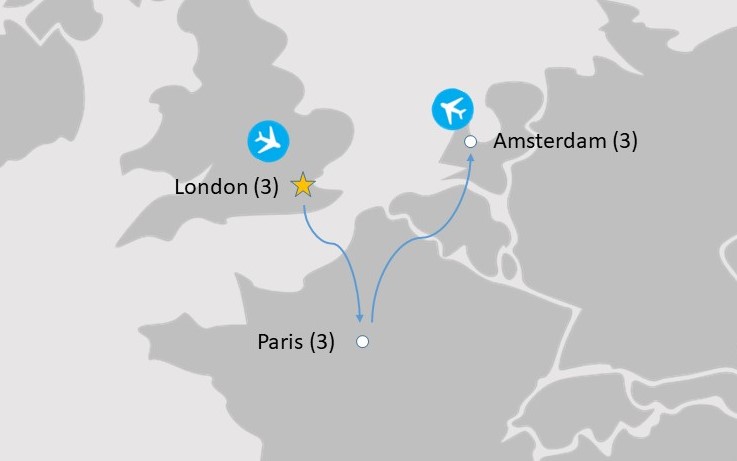 Did You Know?